Pachamama Mexico
Our journey to Baja continues as we made our way down to Todos Santos - a historic little town that is very special to me. Before our trip to Baja, I stumbled upon Pachamama Mexico's Instagram. As soon as I saw the teepees, I knew I had to book right away. I have always wanted to experience glamping and Pachamama was the best place to experience it all. You could imagine how excited I was when we arrived at our destination.
Pachamama, was beyond my expectations. It was an extravagant place located in such a quiet area. It's a mansion with 3 bedroom suites plus 12 teepees and a really REALLY awesome infinity pool. We arrived a little pass 7 PM and I noticed that my Husband and I were the first guests to arrive. I asked the lady, "do you have other guests coming in soon?", she answered "Nope just the two of you". SHUT UP! This whole place just for the two of us?! Get out! We were extremely ecstatic.
Before we settled in our teepee, our Host showed us around. I learned that Pachamama Mexico usually host Yoga Retreat year round.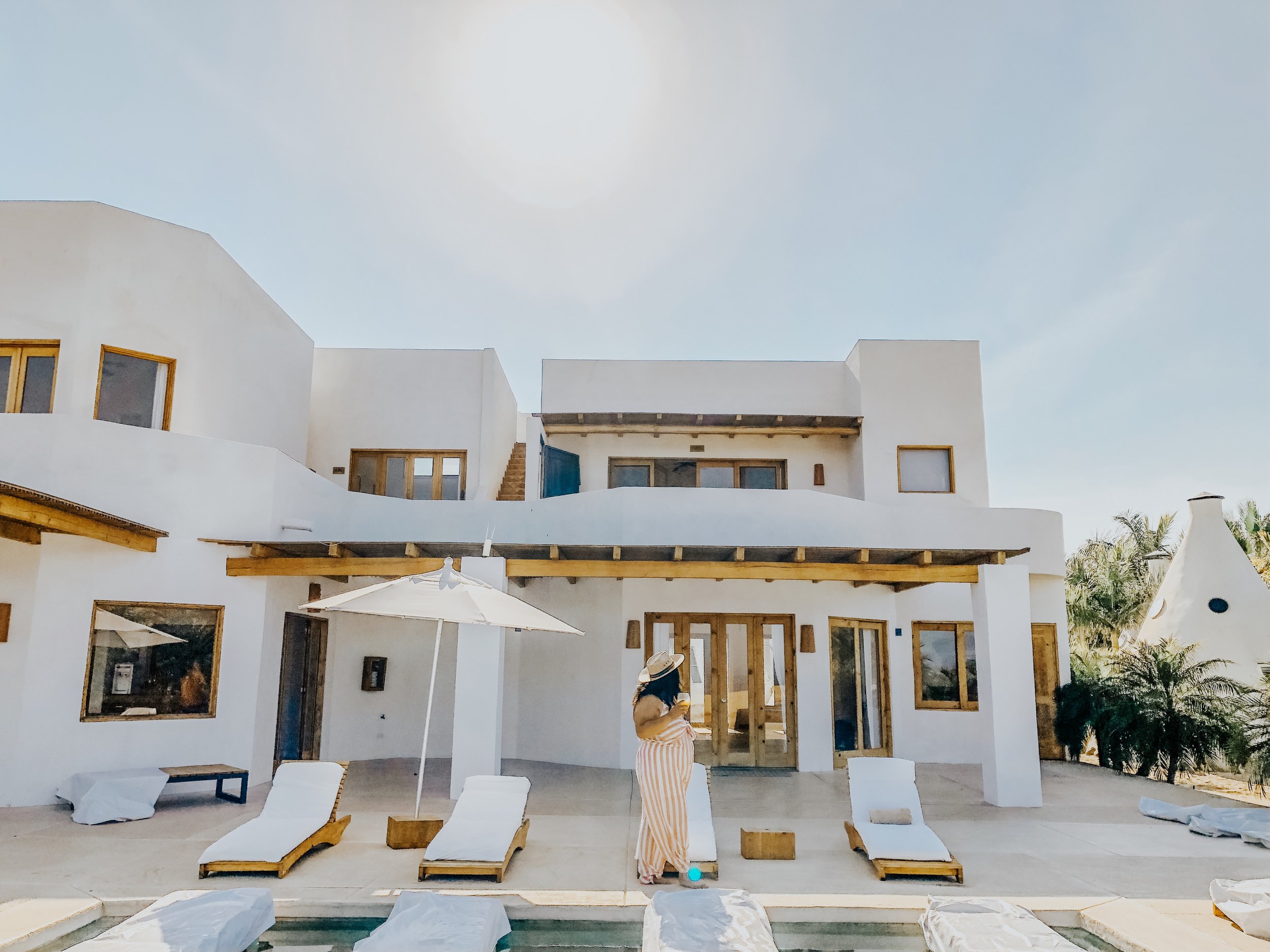 Now, I know some of you may have the same questions I had prior to booking. Is there a bathroom in the Teepees? Is it Air Conditioned? Is it comfortable? To answer, YES on all the questions. There's full bathroom, equipped with shower, flushed toilet and sink. In fact, the bathroom felt like a luxury bathroom. The A/C worked well and the Teepees were very spacious and comfortable. The bed was also soft and very comfy. Probably my only complain is that, at night, there's bunch of mosquitoes outside. But that's just nature.
My favorite time in Pachamama was the mornings. Every morning our hosts would make fresh delicious Mexican breakfast, cut up fruits and serve us juice or coffee. I take my breakfast at the pool, because you already know, I'm hella extra. This was my favorite because since there's just me and my Husband and 2 of our hosts, I was able to take so many photos and be as extra as much as I can.
This whole experience in Pachamama felt like a surprise Anniversary gift for me and my Husband. First, we got the whole beautiful place all to ourselves. And second, did I mention, that my Husband and I also got a complimentary massage? For every day that we spent in Pachamama it was everything we could ever asked for. But like any other vacation, our stay in Pachamama has come to an end. I was really sad to leave but if there's anything Pachamama has left me, it's NOT just the memories, but the thoughts of owning our own little slice of heaven in Todos Santos.
Hope you like this post! Have you ever done glamping before? How was it?
FOLLOW ME ON MY SOCIAL MEDIA TO KEEP UPDATED